Fahnestock Family Arms
Fortis cadere, cedere non potest.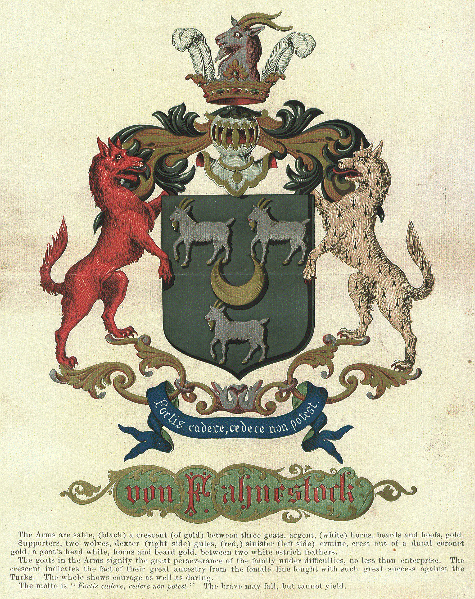 The Arms are sable, (black) a crescent (of gold) between three goats, argent, (white) horns, beards and hoofs, gold.
Supporters, two wolves, dexter (right side) gules, (red,) sinister (left side) ermine, crest out of a ducal coronet gold, a goat's head white, horns and beard gold, between two white ostrich feathers.
The goats in the Arms signify the great perseverance of the family under difficulties, no less than enterprise. The crescent indicates the fact of their great ancestry from the female line fought with such great success against the Turks. The whole shows courage as well as daring.
The motto is "Fortis cadere, cedere non potest." The brave may fall, but cannot yield.
Rupert Von Fahnestock
from whom first sprung this family.
Rupert Von Fahnestock was made a Baron of the Roman Empire, by the Emperor Robert, of Normandy. [Robert of Normandy was in power A. D. 1054.]

The family continued to hod many high offices in the Imperial Courts until, A. D. 1500, when Count Henry Von Fahnestock married into the Noble family of Brandenburg, the lands of which came to his wife, and he settled in that principality.

In A. D. 1644, Count Joseph Von Fahnestock being one of the Nobles to whom the negotiations with the different Courts on Europe for the safety of the Empire was entrusted, was made one of the Committee to erect the House of Brandenburg into the Kingdom of Prussia; he being of so much importance in this duty was made Prime Minister of the New Kingdom in A. D. 1659.

Being delegated on a mission to Poland, he there saw and fell in love with Aloysia, the young and beautiful daughter of John Sobieski, the greatest of European Monarchs, by his first wife, maria De La Grange, one of the Maids of Honor to the wife of Casimir, the former King. She was the wife of Zamoiski, Palantine of Landomir, and daughter of the marquis De Anquien, and a confident of her Mistress. She was a lady of great beauty and talent.

The only offspring of the Emperor and this lady was their accomplished daughter Aloysia.

After a most romantic courtship Count Joseph won the Northern beauty and bore her in triumph to his own home in Brandenburg, as it then was, what is now Prussia.

The name Fahnestock has been indifferently spelled, the former being a corruption of the original Farhnestock.
---

To the J.R. Carl's Home Page.
---
Maintained by: webmaster@DanzanRyu.com, we welcome comments.
See the website map for a listing of all our pages.
Last modified: $Date: 2004/07/24 18:24:06 $