Danzan-Ryu Jujitsu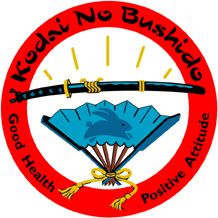 Good health and positive attitude through martial arts training.
---
---
Kodai No Bushido
3525 Ryder St., Santa Clara, California
(408) 738-1785
Is a martial arts school dedicated to teaching the skills, techniques, and philosophy of Danzan-Ryu Jujitsu, as taught by the American Judo & Jujitsu Federation (AJJF), to all people of any age, race, national origin, religion, or sex.
Teaches a safe and effective system of self-defense incorporating physical and mental training.
Teaches kappo and seifukujitsu, traditional Japanese systems of massage and healing techniques.
Prepares students for certification as AJJF Black Belts and instructors.
---
Maintained by: webmaster@DanzanRyu.com, we welcome comments.
Last modified: $Date: 2011/07/29$

Copyright © 2004 to 2011 by Kodai No Bushido, 3525 Ryder Street, Santa Clara, CA 95051 USA.
(408) 738-1785
All rights reserved.